Auto Global Manufacturing Skill Program
Qualification:
Age: 18-25
Education: SPM Leaver
Nationality: Malaysian
Requirement:
Able to work for over time & shift
Passion in automotive parts / Manufacturing /Machinery
Healthy
Career Path:
Apprentice (AGMSP)
Manufacturing Assistant 1
Manufacturing Assistant 2
Manufacturing Assistant 3
Assistant Engineering/Specialist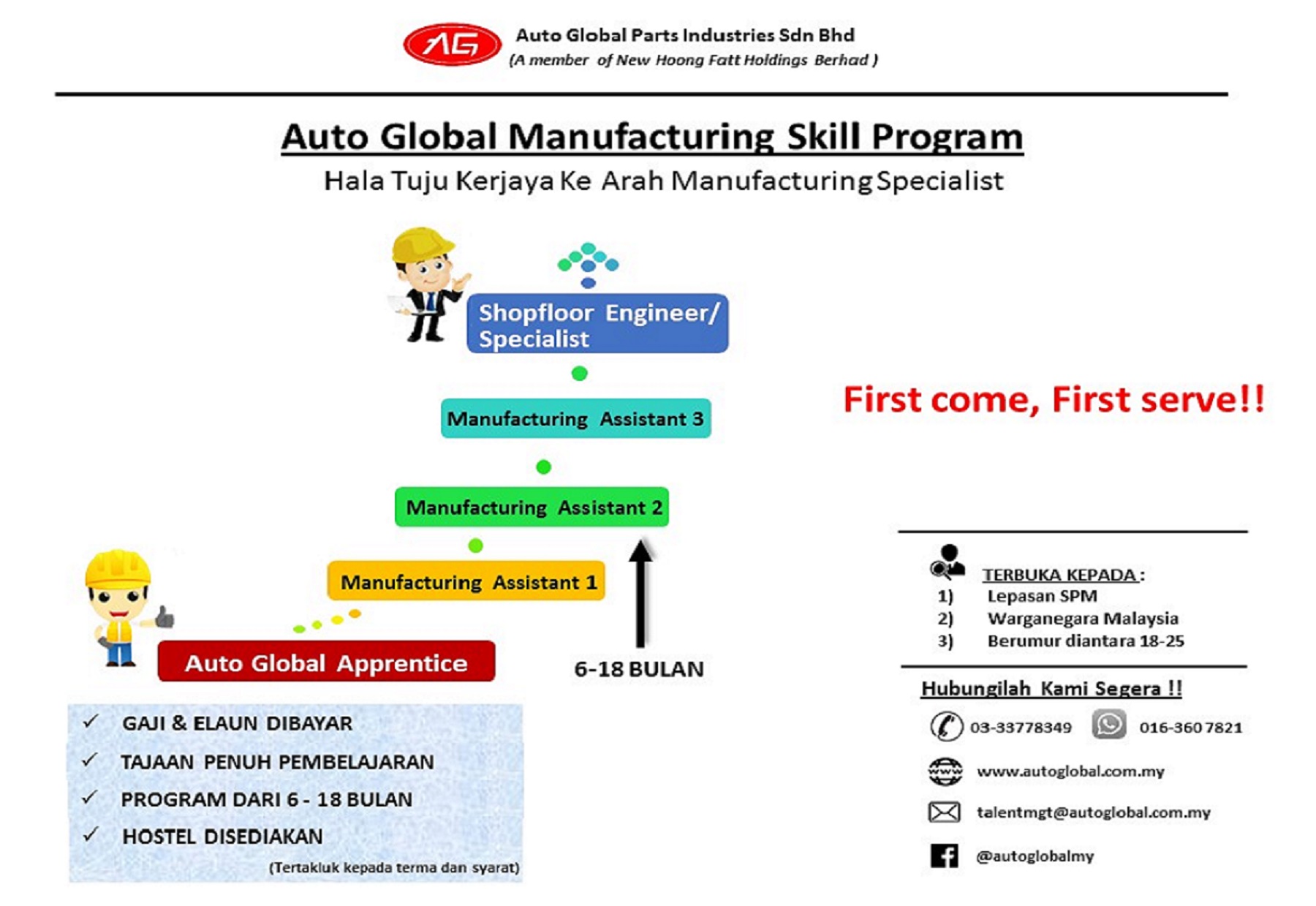 What is Auto Global Manufacturing Skill Program?
Auto Global Manufacturing Skill Program (AGMSP) is an apprenticeship program that provides a great opportunity for you to gain industrial qualifications and experience in manufacturing industry.
What are the opportunities in Auto Global Manufacturing Skill Program?
Upon successful completion of the program, we provide the opportunity for a long-term career with Auto Global for you to reach beyond Manufacturing Assistant role *
Does it cost anything to become an apprentice? 
Zero cost. All costs are fully sponsored by Auto Global Parts Industries Sdn Bhd
How long is the program?
The program is delivered over 6 to 18 months from apprentice until the title up to Manufacturing Assistant 2
Will I earn a salary?
Yes. As an apprentice you are considered a full-time employee and you will receive a salary of RM1000 monthly together with highly competitive allowances for the first 3 months probation period.
Will I be provided with accommodation?
Yes, accommodation is provided by Auto Global .
How can I apply ?
Walk-in interview to our headquater office in Lot 5043, Jalan Teratai, Meru, 41050 Klang Selangor
From Monday to Friday, 8am to 4pm ( Except Public Holiday)
Remember to bring along your IC, resume & certification